In the last few months there was a lot of fuss about the World Cup in Brazil. We've seen lots of changes like most of the big teams losing early and Brazil's loss of 7 goals against Germany. However Brazil's fame is not only dependent on successful football players.
Since football doesn't interest most women, make up companies such as Pupa Milano, took advantage of the World Cup event and extracted the beauty from what the host country has to offer.
What beautiful things get into your mind when you think of Brasil?
At this moment I can think of the tropical landscapes, carnival colours, and beautiful women who turned out to be successful top models such as Gisele Bündchen, Adriana Lima and Alessandra Ambrosio.
And this is what Pupa Milano created for us this Summer. They took the inspiration from the bronze-tanned skin color of Brazilian women, mixed it with tropical carnival colours, to have a Viva Carioca finish.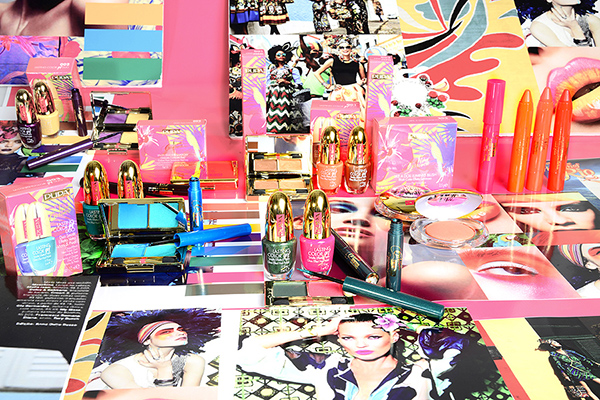 The Pupa Milano Summer 2014 collection, which is also known as the Pupa Milano Viva Carioca, consists of:
4 colorful Vamp! duo eyeshadow palettes, from my experience with other Vamp! eye products, they are very pigmented.
4 colourful longlasting eyeliners, Lara describes as very pigmented and smudgeproof in her review
3 chubby glosses, these grabbed my attention as I never seen or tried lip glosses in pencil form before
2 like a doll baked blushes, I will be giving a short review about soon, and
4 sets of gel nail color duos, if you never tried Pupa's gel nail polish, you should try them out. Although you don't get exactly the same nail gel salon finish and lasting power, they last longer than the normal Pupa Milano nail polishes and the best thing is they cost about the same price!!!
All the above products are paraben and fragrance free, and have a low risk of allergy. That's what I want to hear! 🙂
Now it's time for a review. Last week a surprise package arrived in my letterbox, it was from the Maltese distributor of Pupa Milano. The package had two lipsticks which I will be reviewing in a later post and 1 Viva Carioca Like A Doll blush in shade 107 "Tropical Breeze".
Viva Carioca Like A Doll Blush
107 Tropical Breeze swatch
I have never tried a Pupa Milano blush before, so I started using it everyday for work and other places I went to.
As you can see from the picture on the left, the colour is pink. You might think that since it's pink i.e. a cool tone, you can only wear it with blues, pinks, purples, bluish greens, and neutral colours like white, red, black, and grey. However this particular shade harmonised also whenever I applied warm toned make up such as yellows, oranges, browns, and yellowish greens as it consists of bronze shimmer. This bronze shimmer makes the shade, when applied look like nearly a coral pink.
Another benefit about this blush is that it's baked. A baked equivalent is found to every make up product we find as pressed in a palette such as eyeshadows and blushers. This baking process is done by baking cream make up in terracotta containers. The advantages of baked make up are that:
consist less talc and more minerals
which makes it more pigmented
long lasting
face doesn't look powdery after application
can be applied wet
In short, baked make up is the form of make up which is closest to natural, after mineral make up.
Would I purchase one? There are lots of Pupa Milano products which I do and will purchase like the beauty kits, Vamp! Mascara, eyeliners, gel nail polishes and nail art kits. However I have no plans to buy the blusher. The only reason is that I discovered mineral make up and I managed to use minerals without leaving a mess. However if I had to give up on minerals, I would buy this product or any other Pupa Milano baked blusher for two important reasons. First is because Pupa Milano always proved to offer good quality and second because baked make up is the next best make up after minerals.
—–
DISCLAIMER: I wasn't paid to do this review. In my reviews, even when items are given to me for free, I always list all pros and cons that I find no matter how close the company is to my heart. I confirm this unless stated otherwise on my review.